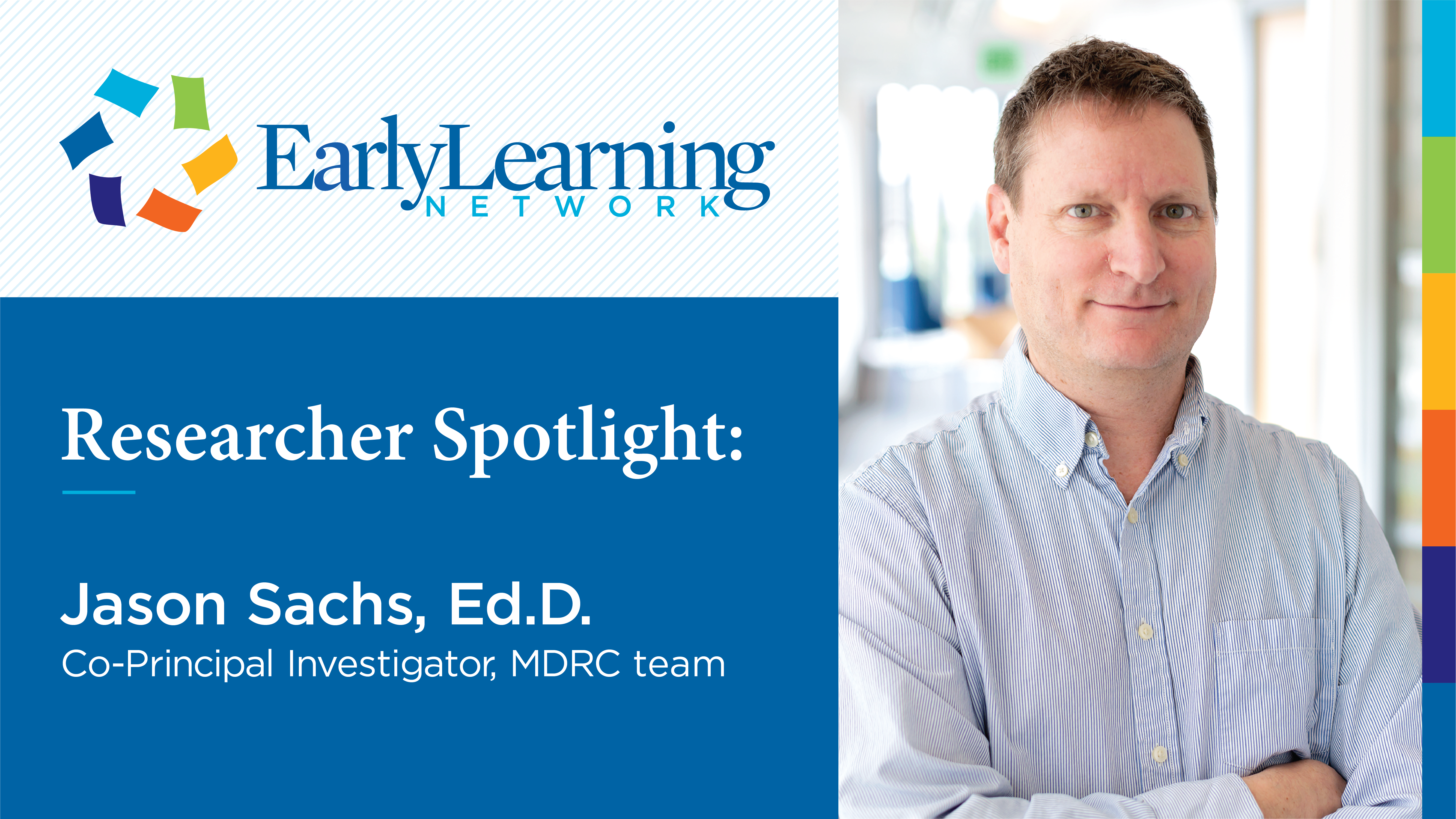 11 Jun

Researcher Spotlight: Jason Sachs, MDRC
Q & A with Jason Sachs
Co-Principal Investigator, MDRC team
Executive Director, Early Childhood Education, Boston Public Schools
Boston Public Schools' Jason Sachs shares his perspective on the Early Learning Network as a public school administrator.
Sachs provides insight on the need to balance research with real-world demands, and the need to better understand policies and practices that improve outcomes for students, particularly those who are most vulnerable.
Read the full Q & A below.
What is your role in the Early Learning Network?
In my dual role with the Early Learning Network and Boston Public Schools, I help ensure our teachers are co-constructors of the research studies and not just the subjects. We have important questions about our decision-making efficacy as we are responsible for the educational experience and trajectory of the students we serve.
The district has invested heavily in curriculum, professional development, coaching, materials and NAEYC accreditation in our schools, and we need to know if we are on the correct path. In Boston, as I suspect everywhere, there is tremendous variation in adoption, teacher quality and student demographics. This study will allow us to better understand how these factors intersect.
What makes you most excited about the Early Learning Network?
The data will be relevant to BPS students and contribute to the field's collective understanding of how to teach our youngest learners. Based on 12 years of experience in a large urban school district, I believe schools need to rethink how they teach preschool through third grade students. This study puts some of our assumptions to the test.
We realize that most of what we observe is a combination of factors — teacher, student, curriculum, coaching, professional development, etc. — and that our existing measures are limited in their ability to capture the dynamic interplay between these factors.
What strengths or distinctive attributes does the MDRC team bring to the Early Learning Network?
Our team brings together multiple perspectives in a mutually respectful way. Early on, we struggled to understand each another's context and perspectives. It was a challenge to match timelines, budgets, capacity and scientific rigor with the realities of a school district and my team. Now, we're able to take a collective breath and navigate the rocky, imperfect terrain together.
Change is only possible through relationships — and we have worked hard on communication and problem solving. The team is committed to figuring out the messy questions, such as how complex variables interact to predict outcomes for our most vulnerable students.
What challenges have you encountered thus far in your project?
While my department has built capital with our schools, each teacher, family and school leader ultimately decides if they want to participate in the study. It is a heavy lift for schools to buy-in to the research given their many competing demands.
BPS offers school autonomy, which means not all teachers and schools are implementing the district's curriculum. There is also tremendous variation in how schools implement the district's curriculum. Hence, we created the fidelity tool to gain a better read on the effects of a more aligned educational experience across grades.
The outcome measures we use — vocabulary, executive functioning and the like — are just one piece of the puzzle. Looking ahead, we need deeper measures based on multiple observations that are more reflective of student thinking and change over time.
What are you most looking forward to in the coming months?
I look forward to sharing the data with teachers. Two years into the study, this summer is our first opportunity to give teachers the quality observations and fidelity scores.
In some sense, the data are too old for them as we assume some practices have changed. This underscores the challenges of conducting actionable, real-world, time-relevant research with new measures that require time to understand. However, I think the findings will generate important conversations about how to go deeper with students.
I am also looking forward to studying bias in our schools. Race and culture deeply affect the educational experience students receive. Bias is sometimes explicit, and sometimes subtler. The Early Learning Network is committed to looking at this question across multiple settings.
Any final thoughts?
There is a natural tension between researchers, who primarily drive the network's agenda, and those in my position who need to make real-time decisions in public school administration.
It is critical to build knowledge around P-3 policies and practices, but in addition to answering big questions, such as whether "fade out" happens, there must also be an emphasis on what an effective, aligned P-3 experience looks like for our most vulnerable students.
We must develop and disseminate timely, meaningful research findings to practitioners that address our most pressing needs.
Photo credit: Boston Public Schools