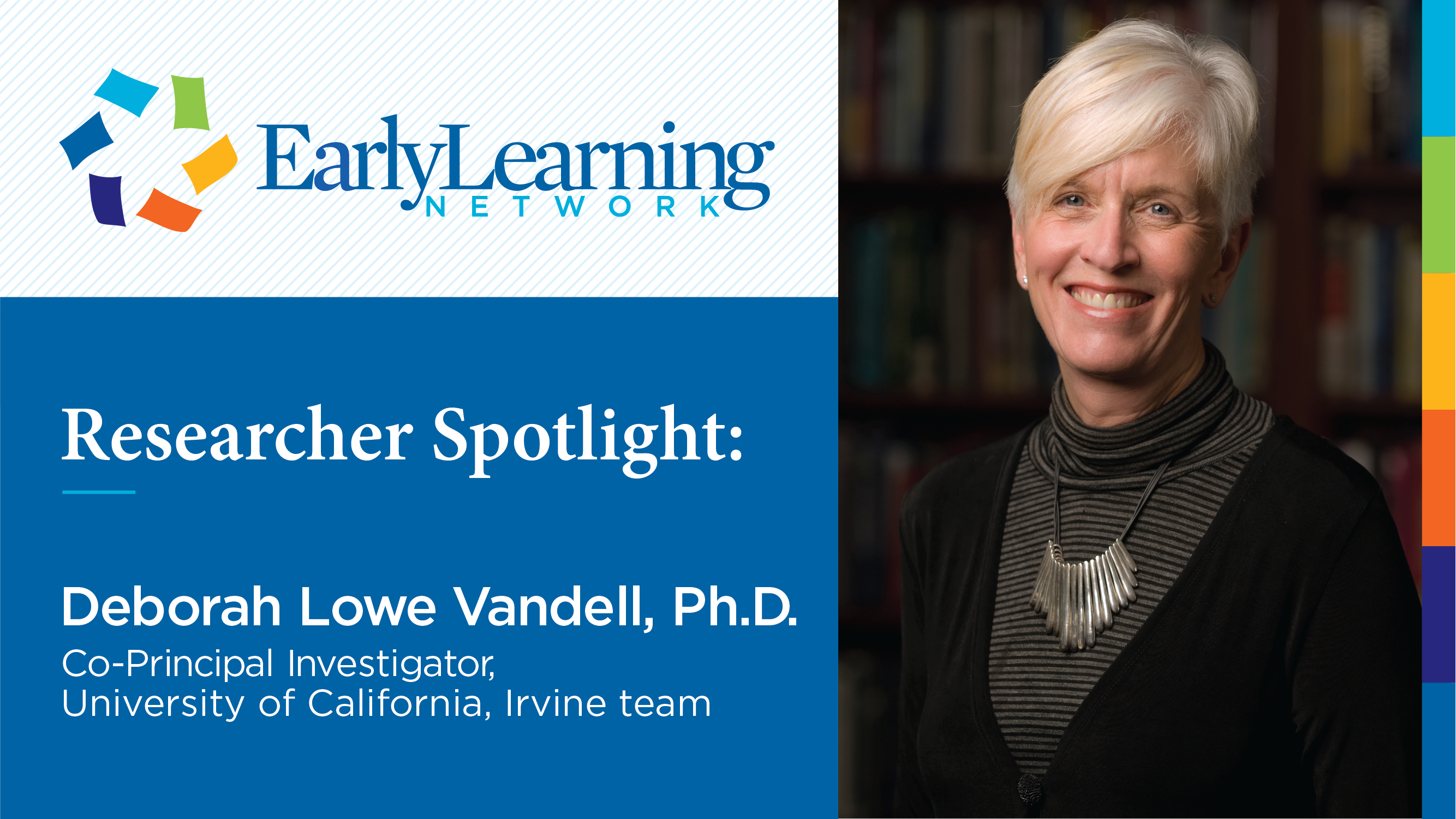 04 Nov

Researcher Spotlight: Deborah Lowe Vandell, University of California, Irvine
Q&A with Deborah Lowe Vandell
Co-Principal Investigator, University of California, Irvine
Professor of Education and Psychological Science

The University of California, Irvine's Deborah Lowe Vandell shares her perspective on the Early Learning Network's efforts to develop and implement the OLOS Observation System in pre-K through third grade classrooms. The technology-based observation tool is used by teachers in real-time to assess various factors that are predictive of later learning and school achievement, including classroom instruction, teacher-child interactions and the classroom learning environment.

Read the full Q & A below.
What is your role in the Early Learning Network?

I am a co-principal investigator for the University of California, Irvine, assessment team. My work focuses on collaborating with Early Learning Network colleagues to develop and roll-out a new assessment tool: Optimizing Learning Opportunities for Students (OLOS).

Over the course of my career, I have been involved in developing several observation instruments that have been widely used by researchers. It is exciting to draw on these previous experiences to create this new tool that can be used by practitioners to capture key aspects of children's experiences to improve instruction.

OLOS differs from other early childhood assessments in that it combines three elements:

It provides individualized technology-based assessments of children's literacy, math and executive functioning skills that can be easily administered by teachers and other school personnel.
It contains a reliable and valid observation system that can be implemented by teachers and other school personnel to capture key literacy, math and social experiences of individual children in early childhood classrooms (pre-K to third grade). These observations also are conducted using user-friendly computer touchscreens — a far cry from my early experiences with clip boards and paper-and-pencil "technology!"
It brings together data from the individualized child assessments and the classroom observations to provide recommendations for teachers on customizing instruction and learning opportunities for individual children in their classroom.
Our focus on optimizing learning opportunities in conjunction with individual child skills is very exciting.

What challenges have you encountered thus far in your project?

One of the biggest challenges for any research network is balancing the goals and aims of individual sites that have specific questions with those of the over-arching network.

Because UCI was funded to create an assessment tool to be used by all of the sites in the Early Learning Network, we have needed to work hard with all of the teams to find ways to integrate OLOS into the ambitious research plans that each site had already envisioned.
What are you most looking forward to in the coming months?

During the initial phases of the Early Learning Network, work on OLOS was primarily done in California. Now, training on how to use OLOS has expanded to other sites in the Early Learning Network.

I am excited to see how well the training materials and observation codes work at the other sites, and if tweaks will be needed before the next research phase.

Because of the diversity represented across the teams, we have a great opportunity to use a common tool (OLOS) to illuminate strategies for promoting learning in diverse early childhood settings.