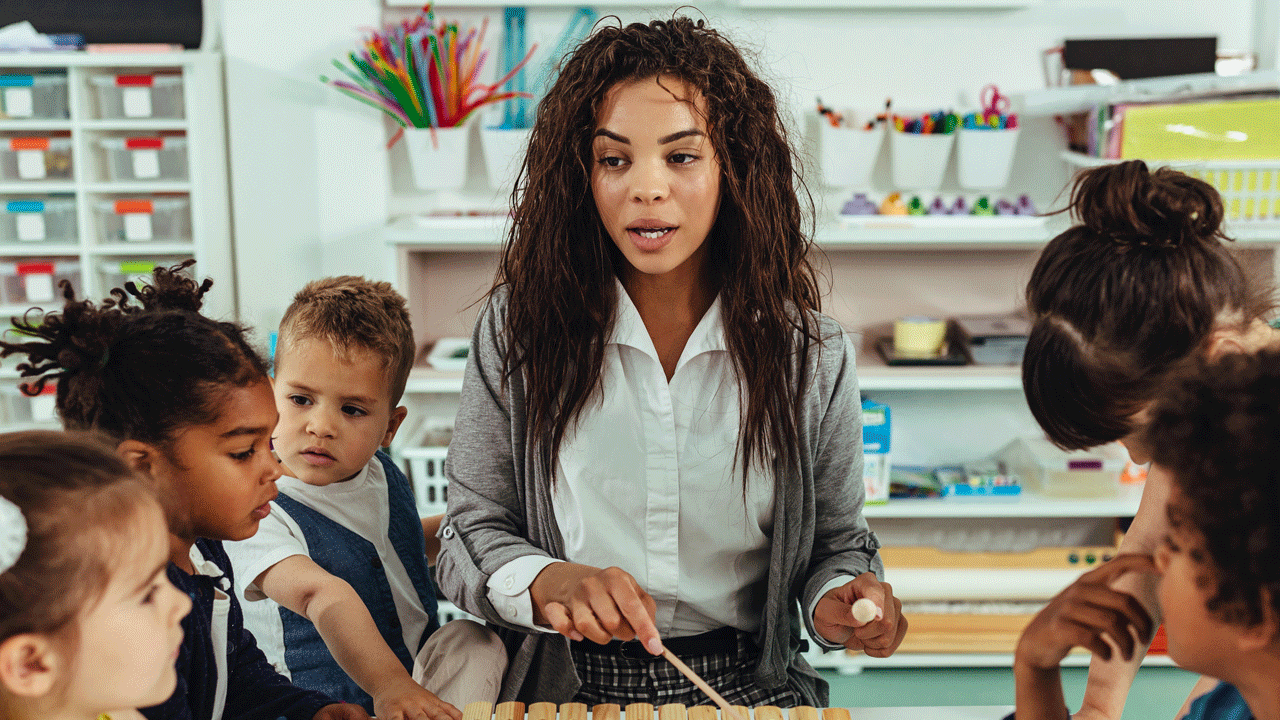 27 May

Skill type is key to understanding the lasting benefits of pre-K

Today, nearly 5 million children attend a formal prekindergarten (pre-K) program in the United States. The Biden administration's recent proposal to invest $200 billion to provide universal pre-K to all 3- and 4-year-olds in the country highlights the critical need to ensure that children, especially children of color and those experiencing poverty, have accessible, inclusive and high-quality pre-K experiences that set them up for success in school and result in lasting benefits for society.

Decades of evidence make a strong case that children who participate in high-quality pre-K programs will enter kindergarten better prepared to succeed than classmates who do not attend pre-K. In essence, pre-K learning opportunities give them a significant developmental "boost" as they enter school. The problem is the advantages from pre-K often do not last.

The initial positive effects of pre-K on children's academic and social-emotional skills may disappear by the end of kindergarten. However, results from the Early Learning Network's geographically diverse research studies suggest this pattern is due to non-attenders quickly catching-up to their peers — not children's skills fading out over time.

Interestingly, there appear to be different levels of catch-up for different types of skills.

How can schools and early childhood education programs leverage skill building to help children maintain early learning success? Network research suggests strengthening instruction to support children's more complex or unconstrained skills, such as vocabulary, problem-solving and critical thinking, may be key to sustaining pre-K benefits over time.

"Pre-K attenders' skills continue to grow substantially in kindergarten, but the non-attenders grow faster and eventually come close to fully catching up to their peers," said Robert Pianta, principal investigator, University of Virginia. "We're finding that there are different levels of catch-up for different types of skills. For early literacy skills, which are considered more constrained or foundational — and a significant focus of kindergarten instruction — the benefits of pre-K seem to be less persistent than for other types of skills."

The network's five study sites, in Boston, Ohio, Nebraska, North Carolina and Virginia, assessed children's learning and development in multiple skill areas, including literacy, language, math, executive functioning and social adjustment in the classroom.

Observed on a continuum, some of these skills may be considered more rote, basic or constrained, reflecting more discrete knowledge or information, such as learning the 26 letters in the alphabet. Other skills are considered more unconstrained, tapping more abstract abilities and continuing to develop in complexity over time, such as vocabulary skills. Both skill of types are critical for children's development.

Network teams examined whether pre-K catch-up varied among different skill domains — more or less constrained — and the extent to which non-attenders' skills caught up to their peers over the kindergarten year.
Key findings
Here are key findings from their collective work, detailed in a new policy brief:
1. Pre-K attenders performed better at the start of kindergarten than non-attenders.
Pre-K attenders consistently scored higher on assessments of literacy, language and math skills at the start of kindergarten.
Pre-K also supported children's skills in working memory and self-regulation, as well as children's social adjustment.
2. When the pre-K boost became considerably smaller by the end of kindergarten, it was mostly for more constrained skills.
By the end of kindergarten, children who did not attend pre-K almost completely caught up to their pre-K attending peers on early literacy skill assessments.
3. The pre-K boost on more unconstrained skills was more likely to be sustained through the end of kindergarten.
For skills such as working memory and vocabulary, the amount of pre-K catch-up was far less and the benefit of attending pre-K was at times almost entirely sustained.
While more unconstrained skills are harder to assess than constrained skills — and less directly tied to standards — this evidence supports investing more time and attention in promoting them among young children as part of a balanced approach to building a foundation for future learning.
"To make pre-K programs more effective in the longer-term, it may be important for educational programs in pre-K and the elementary grades to find ways to balance teaching of more constrained skills — such as early literacy competencies — while also exposing children to the type of content-rich, relevant instruction that supports a broader set of more unconstrained skills, such as vocabulary and critical thinking," said Meghan McCormick, co-principal investigator, MDRC.
There are many reasons that could contribute to variation in skill growth when children enter school; however, there was no clear and consistent evidence across the network's studies that children's experiences in kindergarten influenced the extent to which there was pre-K catch-up or persistence for different types of skills. To address this knowledge gap, more research is needed to understand individual children's classroom experiences across multiple grades, as well as factors such as family engagement.
"As a network, we're continuing to examine how subsequent learning environments may affect patterns of pre-K persistence and catch-up," Pianta said. "Future work is needed to understand how individual children's experiences in the classroom may affect the pre-K boost's longevity."
The policy brief examines:
Patterns of student performance on assessments of different types of skills in the fall and spring of kindergarten for children who attended pre-K and their non-attending classmates.
Factors that may contribute to why growth in pre-K attenders' skills slows during the kindergarten year, in turn helping non-attenders catch up to their peers.
Recommendations for education policy and practice.
This resource is intended to inform education policy, and in turn, promote practices that will afford children with rich learning experiences in pre-K and in the early schooling years that result in their long-term success. The target audience for the brief includes decision-makers for early learning child care programs and school systems, such as administrators for school districts/divisions and program coordinators for community-based programs.
Download the brief: Sustaining the Pre-K Boost: Skill Type Matters
Dig deeper
Read our previous blogs:
The Early Learning Network is funded by the U.S. Department of Education's Institute of Education Sciences. This work supports the network's collective goal to improve children's academic success in pre-K through third grade by identifying research-proven policies and practices that narrow achievement gaps and maintain early learning success.