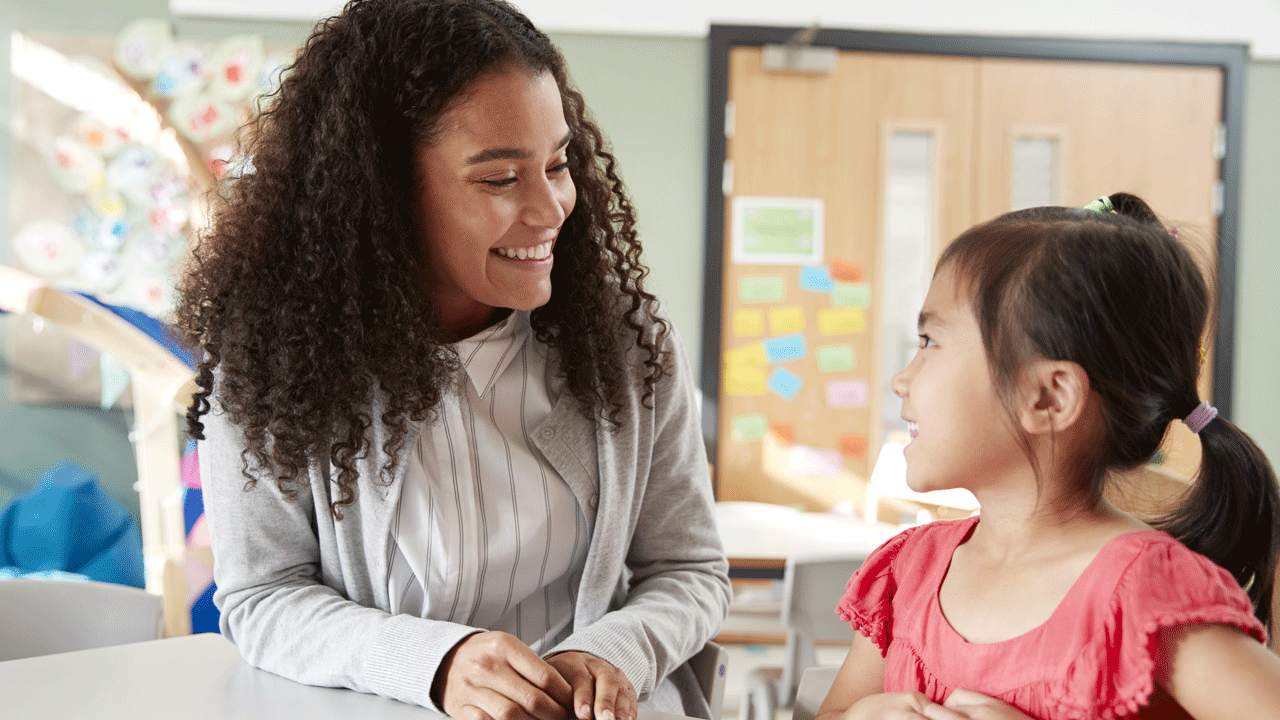 01 Sep

Teacher-child relationships promote a successful transition to kindergarten, long-term outcomes

The transition from prekindergarten to kindergarten is tough for many children — there are new faces, different routines, and, often, higher expectations for academic achievement. Yet there is little empirical evidence of how differences between pre-K and kindergarten classroom environments affect children, particularly as they relate to social-emotional development and self-regulation skills.

A recent Early Learning Network study conducted by researchers at the University of Virginia found that when children experience a decrease in high-quality teacher-child interactions and teacher-child closeness between pre-K and kindergarten, they tend to have lower social-emotional skills and self-regulation at the beginning of kindergarten. The negative effects were strongest among boys during the initial transition to kindergarten.

The UVA team's findings, published in Early Childhood Research Quarterly, strengthen the case for establishing and fostering warm, close relationships between children and their teachers to ease the transition to kindergarten and support them in maintaining early learning gains as they move through the early elementary grades.
Why it matters
Differences between children's pre-K and kindergarten classroom experiences may impede their adjustment to school — and jeopardize their academic and social success. Prioritizing teacher-child relationships may be an important factor in promoting more equitable early learning outcomes, especially for children from historically marginalized groups.
This study sheds light on how transition experiences contribute to adjustment to school, and addresses the need for more evidence of whether and how inconsistencies between pre-K and kindergarten classroom experiences impact children's social-emotional development and self-regulation.
"We know there are large differences between children's pre-K and kindergarten classroom experiences. But there is a gap in understanding how and why these differences matter to kids," said Virginia Vitiello, co-principal investigator, Center for Advanced Study of Teaching and Learning, University of Virginia. "This work explores how these differences may affect children's learning and development — and can help us identify practices and policies to improve the quality of children's early learning experiences through teacher-child relationships."
The study
Researchers studied a large sample of public pre-K children representing low-income and race- and language-diverse backgrounds in Fairfax, Virginia to better understand how their social-emotional development and self-regulation skills may be affected when their kindergarten classroom environment is greatly different from pre-K classroom environment.
Nearly 1,400 children attending public pre-K were assessed in the spring of pre-K and fall and spring of kindergarten on a range of social-emotional and self-regulation skills.
The following classroom experiences were assessed using observations and teacher reports in both grade levels:
Teacher-child interactions
Teacher-child closeness
Teacher-structured time
Key findings
Results from the study indicate that children experienced, on average:
Decreased quality of teacher-child interactions from pre-K to kindergarten.
Decreased closeness with teachers from pre-K to kindergarten.
Increased time in teacher-structured activities from pre-K to kindergarten.
Descriptive analyses revealed:
Larger differences between pre-K and kindergarten classroom experiences were associated with lower social-emotional and self-regulation skills in kindergarten, especially in the early months of the school year.
The findings were most pronounced for decreases in close teacher-child relationships, which were associated with poorer social skills, lower task engagement and more behavior problems.
Differences between pre-K and kindergarten environments may be stressful for children as they start school.
Boys appear to experience larger negative effects than girls during the initial transition to kindergarten.
What this means
Poor transition experiences may create stress for incoming kindergarteners that results in performance issues in the short-term — and may have long-term negative implications for children's social-emotional skills and self-regulation at school, at least as perceived by teachers.
"High-quality teacher-child interactions provide children with a sense of safety, predictable routines and opportunities to actively engage in learning," Vitiello said. "Children whose past experiences in pre-K included close relationships with teachers may react to a more distant relationship with their new kindergarten teachers by withdrawing socially, struggling to maintain cognitive control and meet behavioral expectations with tasks, or even acting out."
Black and Latino boys who attend center-based public pre-K appear to be especially vulnerable to challenges as they start kindergarten, but it is unclear whether this is because they are more strongly affected by specific stressors or because they are viewed differently by teachers.
Overall, the study's findings support the idea that strong teacher-child relationships, particularly at the beginning of the kindergarten year, can help thwart these difficulties and support a more successful transition to school. A positive transition to school may help children maintain gains from attending public pre-K and set them on a path for success.
"Practices and policies that support strong, positive relationships between teachers and their students can help kids adjust to the many social and academic challenges that come with starting school," said Vitiello. "It's a tough transition for many kids, and warm, close relationships really do matter."
Recommendations
The following may be useful ways to bring kindergarten experiences more in alignment with pre-K experiences, and enhance teacher-child relationships:
Provide time and incentives for teachers to conduct home visits or meet with families to strengthen relationships between teachers, children and families, and lay the groundwork for closer teacher-child relationships.

Intentionally creating time for kindergarten teachers to connect with students at the beginning of the year may help counteract stress associated with the demands of standardized testing.

Focus on improving teacher-child interactions in kindergarten to support better transitions for children.

Consider implementing evidence-based approaches or interventions that focus on improving teachers' relationships with kindergarteners who demonstrate elevated behavior problems and supporting teachers to engage in specific, positive ways with these children.
Coaching and professional development programs that focus on improving interactions at the classroom level have been effective in this regard.

These programs help teachers recognize and adjust their interactions with children in the moment, seeking to increase the amount of warm, supportive and cognitively stimulating interactions teachers provide.
Programs that target effective interactions may draw on peer mentors or existing instructional coaches to decrease costs and increase feasibility.

Early childhood educators in pre-K settings can prioritize boys' social-emotional development to help prepare them for potential challenges in kindergarten.
What's next
Further work is needed to explore transitions and how they are associated with early social-emotional and self-regulation development among a broader range of children, including pre-K attenders and non-attenders and children with more or less exposure to adversity from a variety of geographic settings.
"Most teachers will tell you that children need time at the beginning of the year to adjust to the new classroom and get to know their teacher," Vitiello said. "We have to give teachers the time they are asking for to slow down and establish relationships with their students."
Dig deeper
Read the full UVA research paper:
"Differences Between Pre-K and Kindergarten Classroom Experiences: Do They Predict Children's Social-Emotional Skills and Self-Regulation Across the Transition to Kindergarten?" Early Childhood Research Quarterly (2021)
Virginia E. Vitiello, Tutrang Nguyen, Erik Ruzek, Robert C. Pianta, Jessica Vick Whittaker.