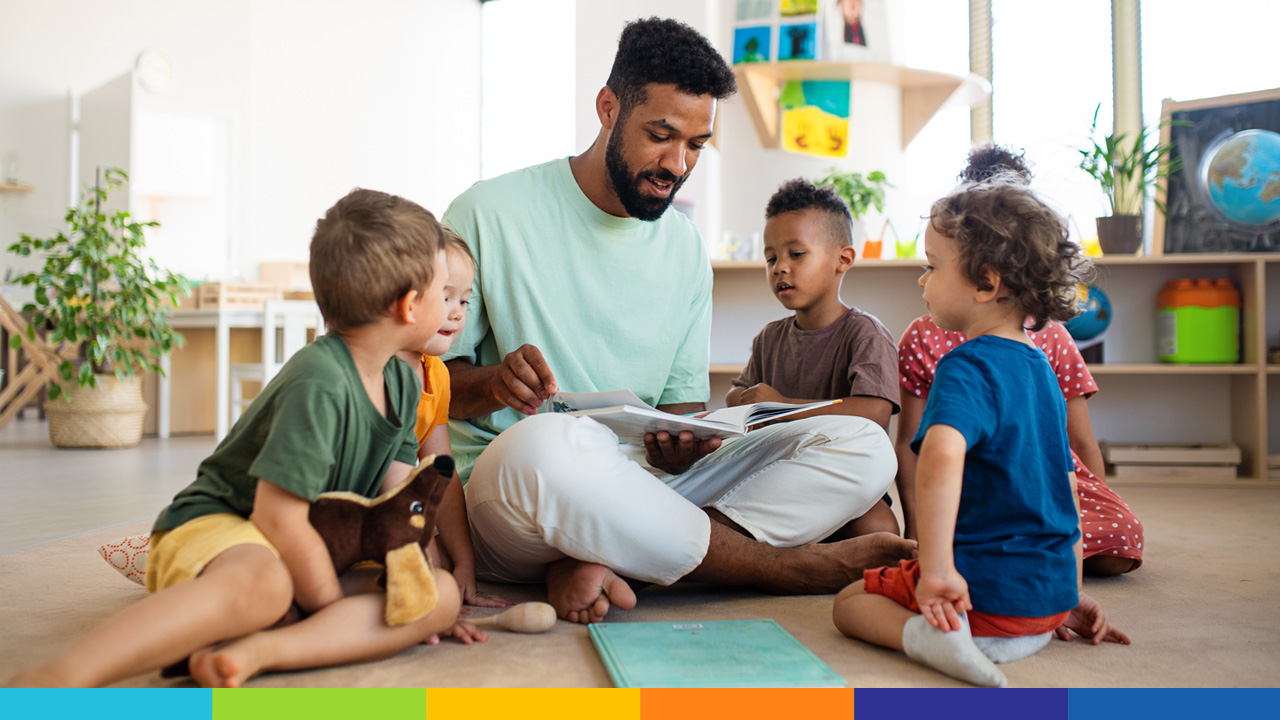 19 Apr

New briefs offer takeaways, action steps for early learning success
What does the Early Learning Network's research tell us about how to support children's early learning success?
A new series of briefs outline the network's collective findings and contributions to the field of early childhood education. Discover impact areas, key takeaways and action steps for practice, policy and research that will move us closer to ensuring all children are provided equitable and effective early learning opportunities.
Early childhood researchers from across the U.S. came together to form the Early Learning Network in 2016 with the mission to identify policies and practices that narrow opportunity gaps and help children maintain early learning success.
Geographically diverse research teams working with schools in Boston, Nebraska, North Carolina, Ohio, Virginia and Southern California gathered educational policy, classroom observation and longitudinal student data (2016-2021) across pre-K to third grade.
Early Learning Network teams are excited to share what they've learned — and what it means for early childhood education practice and policy — in a series of research briefs.
The briefs summarize impact areas that have potential to positively contribute to young children's learning and development, including key takeaways and action steps for practice, policy and research. They were developed using the teams' collective findings, along with critical input and insights shared by U.S. stakeholders during the Early Learning Network Forum.
Four impact areas emerged, each with their own key takeaway:
Pre-K Participation
Classroom Experiences and Learning Opportunities
Relationships
Sustained High-Quality Experiences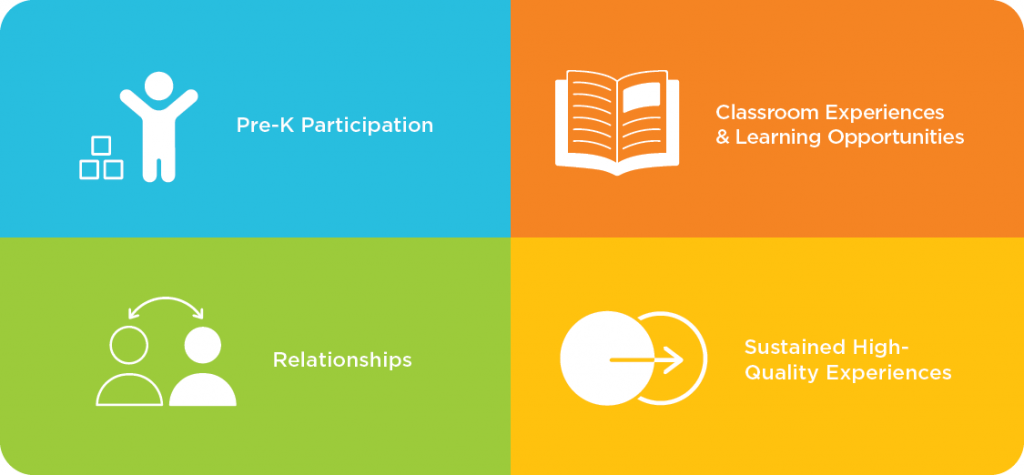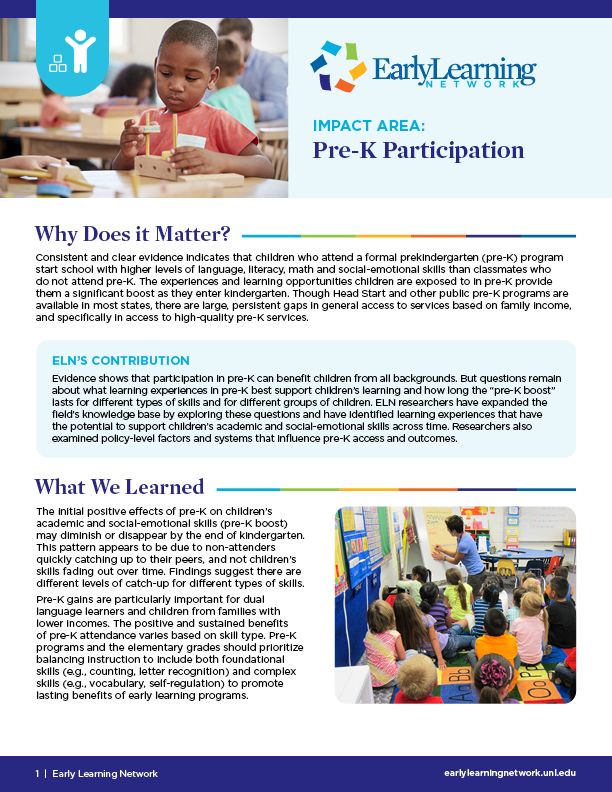 Pre-K Participation
Key takeaway: Pre-K programs and the early elementary grades should prioritize instruction in both foundational skills (e.g., counting, letter recognition) and complex skills (e.g., vocabulary, self-regulation) to promote lasting pre-K gains, particularly for students who are marginalized.

---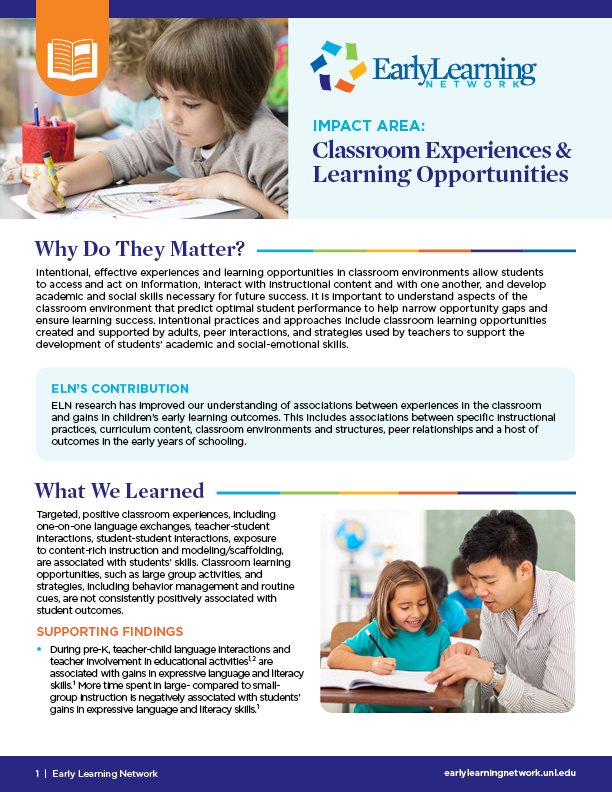 Classroom Experiences and Learning Opportunities
Key takeaway: Children's opportunities and experiences in classrooms should include culturally responsive, intentional and supportive interactions focused on social-emotional, cognitive and language development.

---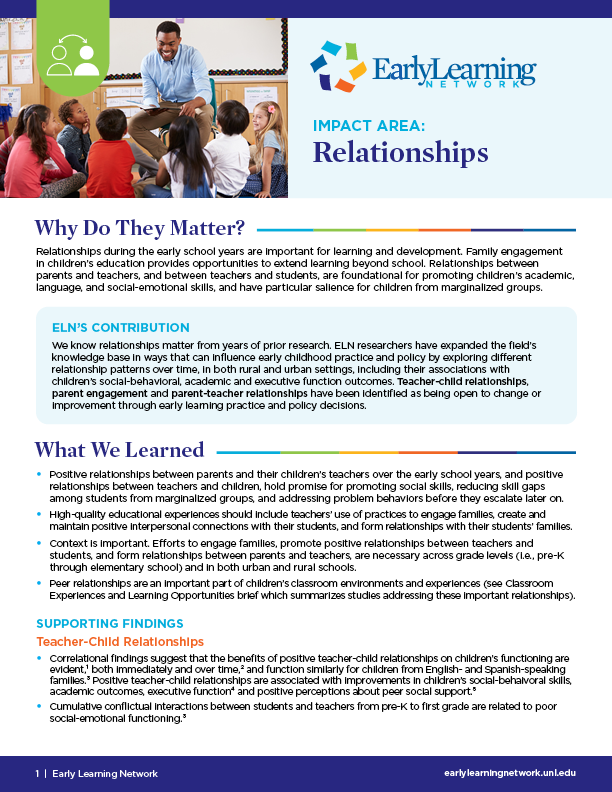 Relationships
Key takeaway: High-quality educational experiences should include educators' use of practices to engage and form relationships with families; create and maintain positive interpersonal connections with students and promote and support positive peer relationships.

---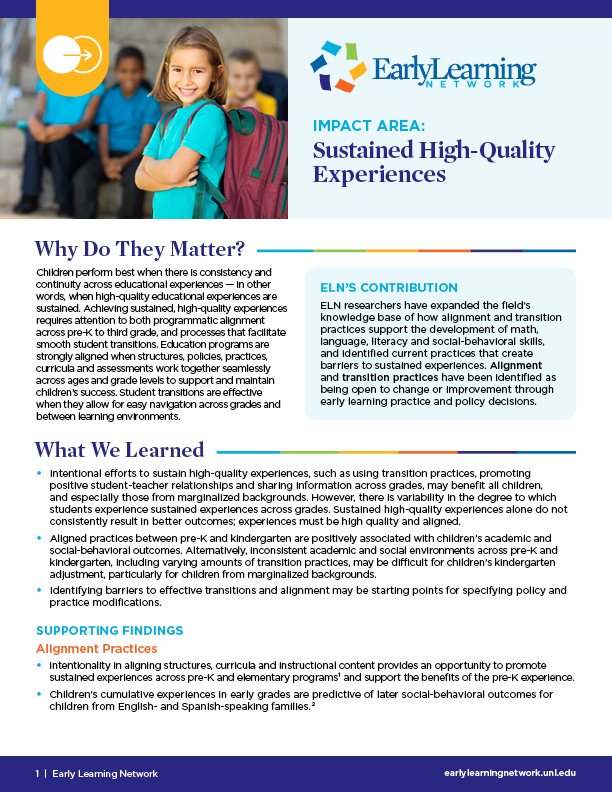 Sustained High-Quality Experiences
Key takeaway: Educational experiences should include consistency and continuity of high-quality opportunities across pre-K to third grade, including alignment of experiences within the early elementary grades (K-3).
---
It is important to note that these key takeaways are intended to be:
Inclusive of all children, but especially relevant for children from marginalized groups (e.g., racially minoritized, dual language learners),
Culturally responsive in application,
Relevant across varied geographic contexts, and the
Shared responsibility of all educational faculty, administrators and staff.

Download each brief (linked above) to learn more details about the impact areas, their importance to children's early learning, ELN's contributions to the field, supporting findings, and key takeaways and action steps for practice, policy and research.

Additionally, the network has published a brief focused on Optimizing Learning Opportunities for Students (OLOS), a classroom assessment tool developed by the ELN assessment team and field-tested by network members.

To learn more about the forum, download the Executive Summary.

Blogs will be shared in the coming weeks that explore the contents of each brief in greater detail.

ELN teams continue to publish new research from their studies. Follow the network on Twitter and Facebook, and join our email list, to be the first to know when new findings and updates are available.