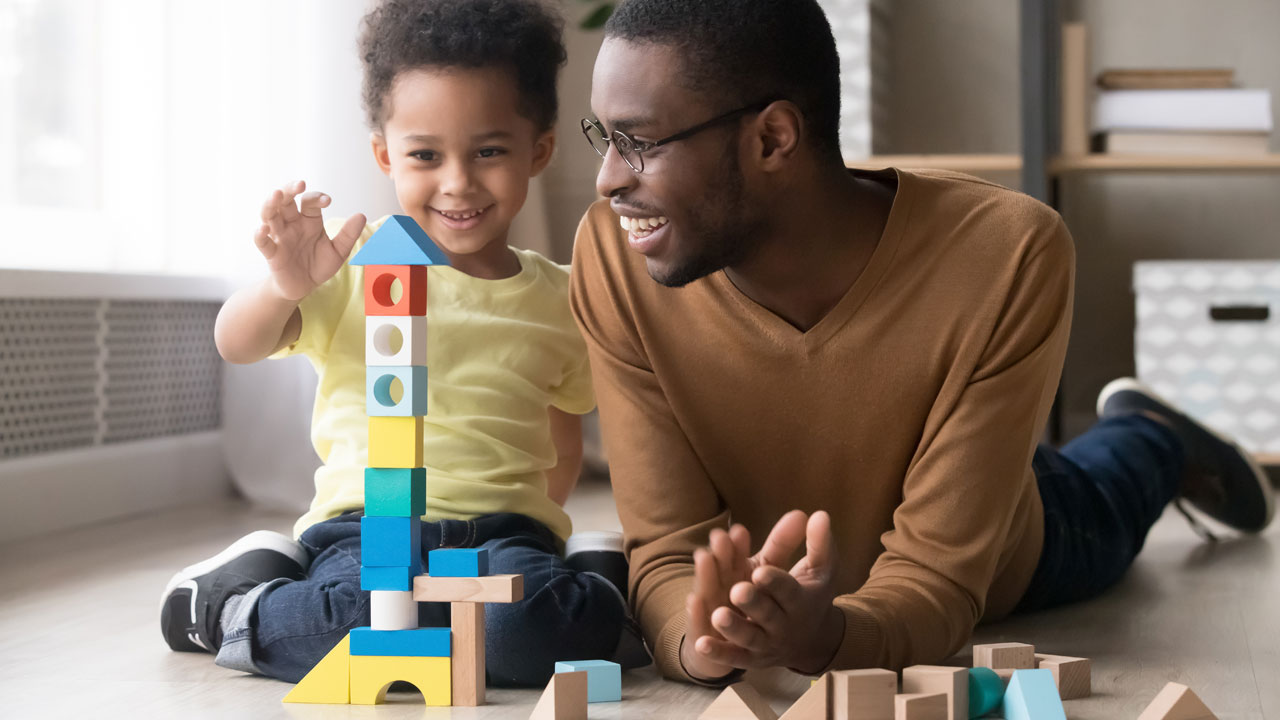 25 Mar

Emerging theme: Family engagement

Family engagement is an important crosscutting theme in several of the Early Learning Network's nationwide studies. Together, our teams are working to better understand how family-school partnerships support optimal, positive trajectories for children as they move from pre-K to third grade.

Family engagement may consist of:
Communication with families, or among families and schools.
Collaboration among parents and teachers.
Parent involvement with learning at home.
Parent involvement in school.
What We're Studying
The Ohio State University team is exploring parents' practices to support their child's learning at home and at school. The OSU study, which spans several cities across Ohio, is tapping activities such as working on numbers, talking with educators, and volunteering or planning events at school.
The University of Nebraska–Lincoln team is comparing differences in family engagement among rural and urban communities in Nebraska.
In Boston, the MDRC team is examining parents' home-based learning activities, focusing on how they differ by parents' education levels and how they relate to children's academic gains.
Researchers from MDRC and the University of Michigan conceptualized activities to support children's constrained and unconstrained learning. Constrained skills are basic math skills and letter/word knowledge that all children are expected to develop in the early grades. Unconstrained skills stretch children's critical-thinking and are more open to ongoing development and improvement, such as receptive and expressive vocabulary and problem-solving. Unconstrained skills are strengthened through activities such as reading, storytelling, and comparing shapes and sizes.
Why Does it Matter?
Strong family engagement with early childhood programs and schools is key to children's healthy development, and supports children's ability to maintain early learning gains.
However, more research is needed to identify how family engagement changes during children's transition from pre-K through the early grades, as well as how it contributes to school readiness, behavioral outcomes and long-term academic achievement.
By examining various dimensions of family-school involvement, across different grades, populations and geographic contexts, the network aims to shed light on the policies, practices and interactions that work best to promote children's early learning success.
What We're Learning
Below are some key findings from the network data during the pre-K and kindergarten years:
Parents' involvement at home is strong, and increases from pre-K through kindergarten. (UNL)
School-based involvement and communication between families and schools decreases significantly from pre-K through the end of kindergarten (UNL).
Families from urban communities tended to have higher engagement levels than families in rural communities. Rural communities face unique barriers that may contribute to this disparity (UNL).
During pre-K, parents reported higher engagement levels in activities to support language/literacy than math skills (MDRC).
Parents with the lowest education levels reported lower engagement in activities to support unconstrained math skills during pre-K (MDRC).
Parents' engagement in unconstrained language activities predicted gains in receptive language during pre-K, while engagement in unconstrained math activities predicted gains in math skills during pre-K (MDRC).
Breaking it Down
The findings suggest that family engagement interventions designed to increase the quality of at-home learning, particularly among families with lower parental education, may want to focus attention on activities that promote unconstrained language and math skills.
"Providing parents with tools to engage with their children at home — telling stories, reading books, and playing with shape blocks and puzzles — may build their vocabulary and math skills over and above what they are learning in their preschool classroom," said Meghan McCormick, the MDRC study's lead author.
Family-school partnerships are influenced by changes in expectations and program structure during the transition from pre-K to kindergarten. As children enter school, there is more emphasis on academic skills, larger class sizes, and less frequent contact between home and school.
"Rural children already face challenges at kindergarten entry," said Amanda Witte, project manager for the UNL study. "Low levels of home-based involvement, school-based involvement and communication with teachers place them at even greater risk — and may have important implications if family-school partnerships continue to weaken throughout elementary school."
Stakeholder Perspectives
Teachers from ELN's partner schools offer thoughts on the importance of family engagement in early learning:
Why is it important to understand family engagement?
"There is a much greater chance for the child to be successful if families are informed about and engaged in their child's education. It is important to keep in mind that family engagement may not always look the same. All children have different needs, abilities and levels of support. This is also true of the families. It is up to the teacher to present information, ask questions and be available if families have concerns. Family engagement is much more than just attending parent-teacher conferences."
—Dan Nowak, second grade teacher, Chandler View Elementary School, Omaha, Nebraska
How does family engagement support students' learning?
"I can't fight the battles without a parent as well, whatever the situation might be. I contact them all the time, good or bad… just to say, "This is what I'm noticing." And I think that helps because they know they can trust me. They know I'll listen to them."
—*Third grade teacher, Ohio
"When students see that teachers and parents are working as partners, they recognize that learning can take place everywhere, both in and out of school. Family engagement can also be a great tool of accountability. When teachers are able to communicate how important something is with the family, the family is more likely to support what the teacher is trying to help their child learn."
—Dan Nowak, second grade teacher, Chandler View Elementary, Omaha, Nebraska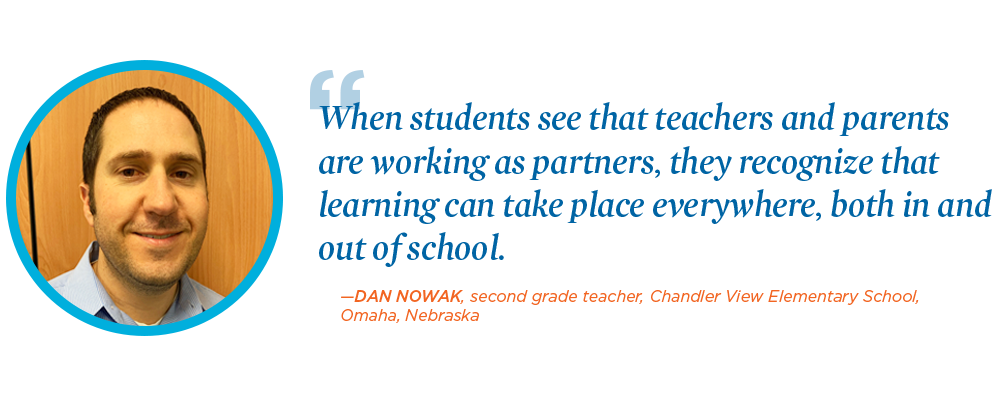 How do you open up communication with parents?
"In the beginning of the year, it's just involving them in everything — giving them all of the information I have so that they don't feel like they don't know something. I just try to be very honest and open."
—*Preschool teacher, Ohio
What do we need to know about family engagement in order to help students succeed?
"I believe more responsibility falls on the teacher to initiate the engagement. Teachers are equipped with information, knowledge of curriculum, research-based strategies, and hopefully, best practices for children. Families may not always be equipped with as much. Teachers need to know how families best receive information, too. This includes being aware of their preferred language and communication method, and their ability to understand information sent from school. Engagement may look different for each family. Ultimately, we want all families to feel like they are welcome to participate and that they should play an active role in their child's education."
—Dan Nowak, second grade teacher, Chandler View Elementary School, Omaha, Nebraska
What's Next
Early Learning Network teams will continue to explore family-school partnerships during the early years of schooling and work to synthesize cross-site findings that represent different developmental periods, intervention types and ecological settings with the goal inform the next generation of family engagement research and policy to best support diverse families. The network's nationwide studies conclude in May 2021.
*Names are withheld per Institutional Review Board requirements.